Howell Fencing is the local, trusted provider of high-quality chain link fences for all residential, commercial, and industrial customers. With our expertise and commitment to customer satisfaction, we are dedicated to delivering durable, versatile, and cost-effective fencing solutions. Chain Link Fence is an affordable and durable option to protect your home or workplace. In commercial or community areas, chain link fence can also be used as pool fence, playground fence, tennis court fence, or security fence. Chain link fences are also relatively easy and quick to install, making them a convenient option for time-sensitive projects.
Chain link fences are constructed using a woven wire mesh fabric made of galvanized steel. The mesh is formed into a diamond pattern by weaving the wires vertically and horizontally. This design provides excellent strength and structural stability. Chain link fences are available in various heights, gauges (thickness of the wire), and mesh sizes, allowing for customization based on specific needs.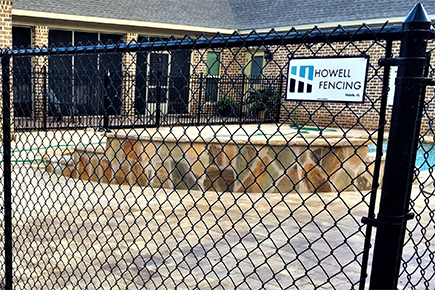 Why Choose a Chain Link Fence?
Security and Protection: Our chain link fences offer a robust and reliable security solution, providing a strong physical barrier to protect your property. With their interwoven galvanized steel wire, they effectively deter unauthorized access and keep intruders at bay. Chain link fences act as a reliable security barrier, deterring unauthorized access and protecting property from intruders. The open mesh design allows for visibility while maintaining a physical barrier.
Minimal Maintenance: Chain link fences require minimal maintenance, as they do not require painting or staining. Occasional cleaning and repairs to damaged sections are typically all that is needed to keep them in good condition.
Durability and Longevity: Built to withstand the test of time, our chain link fences are constructed using high-quality materials. The galvanized steel wire is resistant to rust, corrosion, and the elements, ensuring a long-lasting and low-maintenance fencing solution.
Versatility and Flexibility: Chain link fences are highly versatile and can be customized to fit any property size or shape. They are available in various heights, mesh sizes, and gauges to accommodate your specific needs. Whether you require a fence for a residential backyard, commercial property, sports facility, or construction site, our chain link fences are an ideal choice. Chain Link fencing also comes in several different vinyl coated colors or with decorative privacy slats to add style, and a unique look to your property.
Transparency and Visibility: Unlike solid fences, chain link fences offer visibility, allowing you to monitor activities inside and outside your property. This makes them an excellent option for areas where visual access is desired, such as parks, playgrounds, and sports fields.
Cost-Effective Solution: Chain link fences provide an affordable fencing option without compromising security or durability. They offer exceptional value for money, making them a popular choice for a wide range of applications.
DESIGN IDEA
Chain link fence can also be combined with other types of fencing. We can install
PVC fence in the front facing the street and chain link on the sides or back.
Why Choose Howell Fencing?
Expertise and Experience: With years of experience in the fencing industry, we have the knowledge and expertise to deliver top-notch chain link fences. Our team of professionals is highly skilled in fence installation, ensuring a seamless and efficient process from start to finish.
Quality and Craftsmanship: We are committed to providing the highest quality chain link fences. Our products are manufactured using industry-leading techniques and materials, ensuring superior strength, durability, and longevity.
Customization Options: We understand that every project has unique requirements. That's why we offer customization options to tailor our chain link fences to your specific needs. Whether you need a specific mesh size, color, or additional features, our team will work closely with you to design the perfect fence solution.
Timely and Reliable Service: We value your time and strive to provide prompt and reliable service. From the initial consultation to the final installation, we are committed to meeting deadlines and delivering exceptional customer service.
Customer Satisfaction: Your satisfaction is our priority. We take pride in our strong reputation for customer satisfaction and aim to exceed your expectations with every project. We listen to your needs, provide expert guidance, and ensure that you are thrilled with the end result.
Chain link fences offer customization options to suit specific needs and aesthetics. Some design considerations include:
Height: Chain link fences can be tailored to different heights, providing options for privacy or visibility depending on the application.
Color: Traditional chain link fences have a silver appearance, but color-coated options are available. Color coatings provide additional protection against corrosion and allow for better integration with the surrounding environment.
Privacy Enhancements: Privacy can be enhanced by attaching privacy slats or using windscreens that can be inserted into the mesh. These options reduce visibility and create a more secluded space.
Security Enhancements: Additional security features can be incorporated, such as barbed wire or razor wire along the top of the fence, to deter climbing or unauthorized access.
Chain link fences continue to be a popular fencing solution due to their affordability, durability, and versatility. Whether you need to secure your property, enhance privacy, or create a safe space for pets or sports activities, chain link fences offer a reliable option. Their low maintenance requirements and quick installation make them practical for a range of applications. Moreover, with customization options available, chain link fences can be tailored to suit specific needs and aesthetic preferences. As you embark on your next fencing project, consider the many advantages that chain link fences bring, ensuring peace of mind, durability, and an effective barrier for years to come.
When it comes to chain link fences, Howell Fencing is the name you can trust and rely on. With our exceptional products, skilled craftsmanship, and dedicated customer service, we are your reliable partner for all your fencing requirements. Contact us today to schedule a free estimate and let us help you secure your property with a high-quality chain link fence.
Let Howell Fencing quote your
Residential, Commercial or Industrial
Fence Build or Repair
Daphne, Fairhope, Mobile, Saraland, Spanish Fort, Theodore, Tillman's Corner
and surrounding areas