A community fence, also known as a neighborhood fence or shared fence, refers to a fence that is jointly owned or maintained by multiple property owners within a community or neighborhood. It is typically installed along property boundaries to provide a uniform appearance and serve common purposes for the community as a whole.
The concept of a community fence arises when adjacent properties have a shared need for a fence, such as delineating property lines, enhancing security, providing privacy, or creating a cohesive aesthetic within the neighborhood. Rather than each property owner installing an individual fence, a community fence allows for cost-sharing, shared maintenance responsibilities, and a consistent look throughout the neighborhood.
Community fences can be made from various materials, including wood, vinyl, wrought iron, chain link, or composite materials. The type of fence chosen often depends on factors such as the community's architectural style, budget considerations, and the preferences and needs of the property owners involved.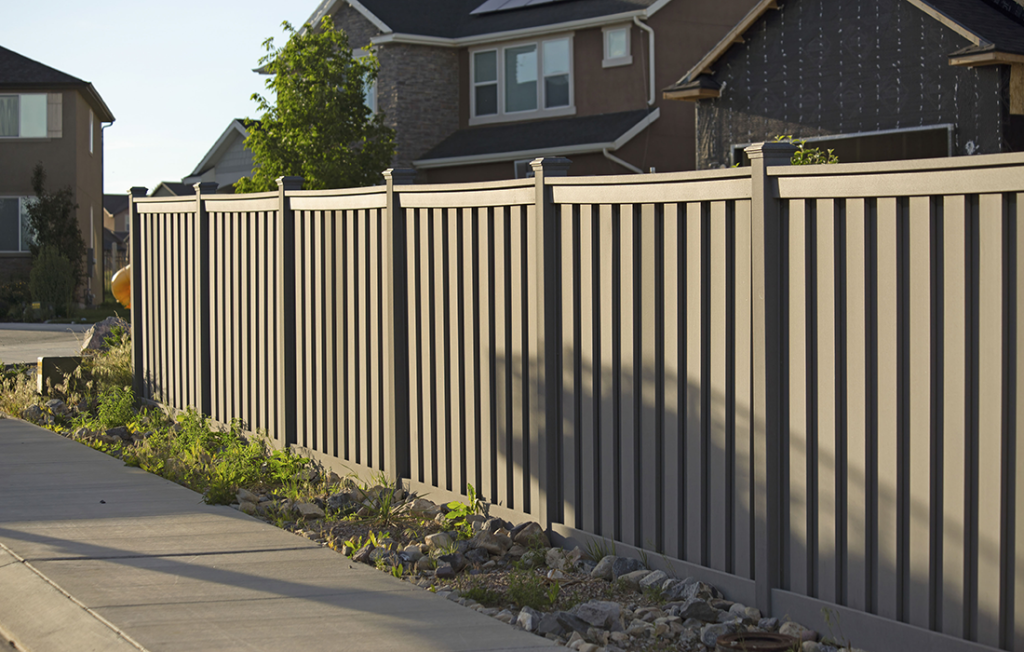 Key aspects of a community fence include:
Cost Sharing: Property owners within the community typically divide the cost of purchasing and installing the fence. This cost-sharing approach helps distribute the financial burden evenly among neighbors and can make installing a fence more affordable for individual property owners.
Joint Ownership: In many cases, a community fence is jointly owned by the neighboring properties it serves. This means that maintenance, repairs, and replacement costs are shared among the property owners. It is essential to establish clear agreements and guidelines regarding shared responsibilities to ensure effective maintenance and upkeep of the fence over time.
Design and Style: The design and style of a community fence are often chosen to create a cohesive and visually appealing look throughout the neighborhood. This may involve selecting a specific fence material, color, height, or decorative elements that complement the overall architectural theme or existing fences in the community.
Legal Considerations: Before installing a community fence, it is important to consult local zoning regulations, homeowner association guidelines, and any applicable permits or permissions required. Compliance with local laws ensures that the fence installation adheres to the community's rules and regulations.
Dispute Resolution: As a shared asset, disagreements or disputes may arise among property owners regarding maintenance, repairs, or changes to the community fence. It is beneficial to establish a clear dispute resolution process or guidelines upfront to address any conflicts that may arise and maintain harmony within the community.
Community fences can foster a sense of unity and collaboration among neighbors, as they work together to create a cohesive and functional boundary within their shared environment. By sharing costs, responsibilities, and decision-making processes, community fences promote a sense of collective ownership and contribute to the overall aesthetics and value of the neighborhood.
Jasmine Coppage
2023-04-18
We needed an old 8' wood privacy fence on our business property removed the next day and then have a new one installed a week later due to some site work that needed to be done last minute with little notice. After calling a few other local fencing companies and having no one available to come out the next day due to being booked out a few weeks, we called Howell Fencing and they were able to fit us in the next day with little notice and their crew was AMAZING! They removed our previous fence in less time than quoted and cleaned up nicely and they came back to install the new fence and it went up quickly and was put up even better and looked way better than the previous one. You could really tell the quality work with this crew! We got compliments on our new fence too! The sales rep was professional as well and the price was decent as well! Thank you, Howell Fencing! 🙂
Can't say enough how great it was to work with Colin from Howell Fencing. Great experience all around and I would not hesitate to trust this company to build me a fence.
These guys are great. We needed help with hiding an unsightly area for an event and they showed up and installed their temporary fencing that we were able to use to hang welcome signage. Very dependable.
Howell Fencing just finished replacing my wooden fence and gate. It is so beautiful and the gate is awesome. The crew was great, hardly knew they were here. My old fence was in terrible shape and they hauled off all that debris. I'm so happy. Great work Colin and crew. Cinde
Elyssa Simpson
2023-02-09
Had them come for a Marti Gras event. Great response, easy to work with and very professional.👍
Howell Fencing has the most wonderful customer service care possible. Their performance is swift and Phillip is thorough, warm, and fantastic at what he does. I could not be more pleased with how professional and friendly he was. 11/10!
Shannon Robertson
2023-01-25
These guys are quick to respond and easy to communicate with. They had my privacy fence up in just a couple of days - I highly recommend!
Stephanie Crompton
2023-01-24
Howell Fencing came to my rescue when I needed to hide an eyesore area for a big time event in downtown Mobile. The black privacy mesh on their temporary fencing was the perfect fix. They were a pleasure to work with and I will definitely call them again!
Jennifer Crumpton
2023-01-24
I was presented a bit of a challenge while constructing my privacy fence. They helped provide a solution and the work was quality!!! The entire team was accommodating and the work was completed in a timely manner!
It's so not easy finding professional contractors for anything these days. This company was on time and on budget!
Let Howell Fencing quote your
Residential, Commercial or Industrial
Fence Build or Repair
Daphne, Fairhope, Mobile, Saraland, Spanish Fort, Theodore, Tillman's Corner
and surrounding areas