Picket fences have long been synonymous with the idyllic image of a perfect home. Their classic design and charming appeal evoke a sense of nostalgia, creating an inviting atmosphere and adding a touch of elegance to any property. Picket Fences have a rich history, can be constructed from various styles and materials, and provide many benefits to homeowners. From enhancing curb appeal to defining boundaries and promoting a sense of community, picket fences have stood the test of time as an enduring symbol of domestic bliss.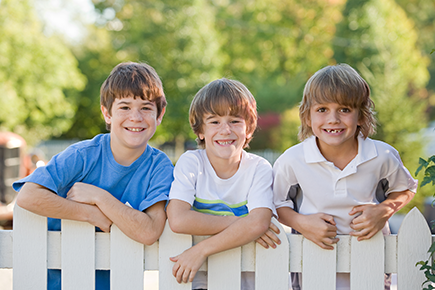 A Historical Perspective of Picket Fences
Picket fences have a storied history that dates back centuries. Originating in England during the late 16th century, picket fences were initially built as a means to demarcate property boundaries and keep livestock contained. The concept was later brought to America by European settlers, where picket fences became increasingly popular as a symbol of the American dream and the idealized notion of suburban living. Over time, they evolved into a distinct architectural feature, adorning homes across the country.
Styles and Materials: Picket fences come in a variety of styles, allowing homeowners to choose the one that best suits their preferences and complements their architectural aesthetics. Traditional picket fences feature evenly spaced vertical pickets that are typically pointed or shaped into decorative elements, such as a rounded or scalloped top. Contemporary variations offer more flexibility, allowing for different heights, widths, and design options.

When it comes to materials, wood is the most common choice for picket fences, as it exudes warmth and natural beauty. Cedar and redwood are popular wood options due to their durability and resistance to rot. However, modern advancements have introduced low-maintenance alternatives, such as vinyl and composite materials. These synthetic options offer the look of wood while requiring minimal upkeep, making them an attractive choice for busy homeowners.

Enhancing Curb Appeal: One of the primary advantages of picket fences is their ability to enhance curb appeal. With their timeless charm and visual appeal, picket fences create an inviting first impression for guests and passersby. They provide a sense of continuity, tying together the architectural elements of a home and its surroundings. Picket fences can be painted in various colors to complement the exterior of the house, further adding to the overall aesthetics.
Creating Defined Boundaries: Picket fences serve a practical purpose in defining property boundaries. They establish a clear separation between the homeowner's property and the public space, offering a sense of privacy and security. Picket fences also prevent unwanted intrusions and encroachments while allowing a subtle interaction between neighbors and the surrounding community. They strike a delicate balance between openness and privacy, creating a welcoming atmosphere while still maintaining a sense of ownership and control.
Symbolizing Community and Tradition: Picket fences hold a symbolic value that extends beyond their physical presence. They represent a sense of community and a shared connection to the neighborhood. Picket fences have long been associated with the concept of the "white picket fence" that embodies the American dream and the idealized vision of a secure and prosperous life. Their presence in a neighborhood fosters a sense of unity and encourages a friendly, neighborly atmosphere.
Picket fences have remained a beloved choice for homeowners throughout history due to their timeless elegance, functional benefits, and symbolic significance. With their ability to enhance curb appeal, define boundaries, and evoke a sense of community, these fences continue to be an enduring architectural feature in neighborhoods worldwide. Whether crafted from wood or modern materials, picket fences serve as a reminder of a simpler time while complementing the aesthetics of contemporary living. As we look to the future, the charm and allure of picket fences will undoubtedly continue to stand the test of time.
If you've always wanted a house with a white picket fence, what's stopping you? A picket fence adds charm, curb appeal and safety to your property. Picket fences are lower than a privacy fence, and can let you see out of your yard, but keeps children and pets in a safe place.
If you're interested in getting a picket fence installed, one of the big questions you need to answer is if you want a vinyl picket fence or a wood picket fence. There are pros and cons to each, including price and maintenance. A vinyl fence costs more up front, but is virtually maintenance free, while a wood fence is cheaper up front but requires regular maintenance including sanding, painting or staining. Whichever material you choose, Howell Fencing can install your new picket fence at a price you can afford!
If you're looking for a licensed fence company to install a new picket fence or repair your existing fence in the Mobile, Saraland or Daphne areas, call us today or use our contact form to schedule a free quote.
Let Howell Fencing quote your
Residential, Commercial or Industrial
Fence Build or Repair
Daphne, Fairhope, Mobile, Saraland, Spanish Fort, Theodore, Tillman's Corner
and surrounding areas