Installing a fence around your house can significantly enhance your living experience. Whether it's for security, privacy, safety, or aesthetics, a well-designed and properly installed fence can make a notable difference in your daily life. First, a fence provides an essential layer of security for your property. By establishing a physical barrier, it acts as a deterrent to potential intruders and clearly defines your property boundaries. A fence provides an additional level of protection for your home, family, and belongings.
Privacy is another crucial aspect that a fence can provide creating a secluded space where you can relax, entertain guests, or enjoy your outdoor activities. With a well-designed fence, you can create a sanctuary within your property that allows you to fully enjoy your personal space and promotes a more comfortable living environment.
If you have children or pets, a fence offers a safe and secure area for them to play and explore. It prevents them from wandering and keeps them away from potential hazards like busy roads or neighboring properties. By creating a designated and enclosed space, a fence allows your children and pets to enjoy the outdoors freely, giving you peace of mind knowing that they are protected.
A fence can also contribute to noise reduction. Living in a bustling neighborhood or near a busy street can expose you to unwanted noise. A well-constructed fence acts as a sound barrier, minimizing the amount of noise that enters your property. This creates a more peaceful and serene living environment, allowing you to enjoy tranquility and escape from the hustle and bustle of the outside world.
A fence adds value and curb appeal. Fences can enhance the overall look of your home and complement its architectural style. They can be tailored to match your personal taste and the style of your landscapet. A fence can be a standout feature that sets your property apart, making it more attractive to potential buyers should you decide to sell in the future.
A fence also provides you with the opportunity to define and utilize your outdoor space more effectively. By enclosing specific areas within your property, such as swimming pools, patios, or gardens, a fence helps to mark off-limits areas and promote safety for your family and visitors.
Lastly, a fence can offer protection from the elements. Depending on the design and material, a fence can act as a windbreak and provide shade and privacy, creating a comfortable and inviting outdoor space for relaxation, gatherings, or recreational activities.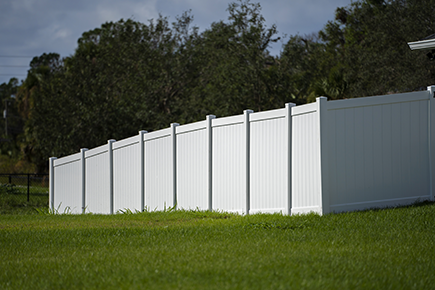 A Vinyl Fence will initially cost more than a wood fence but will save time and money every year.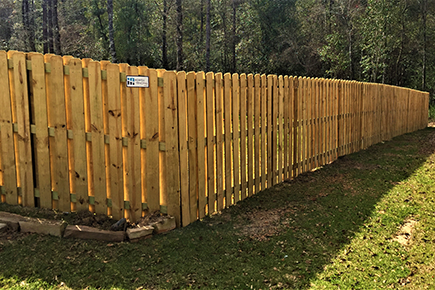 A shadow box fence looks great from both sides as it has no totally exposed runners or posts.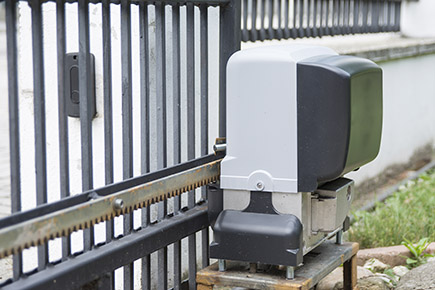 Gates and Gate operators provide accessibility and security for your home.
Jasmine Coppage
2023-04-18
We needed an old 8' wood privacy fence on our business property removed the next day and then have a new one installed a week later due to some site work that needed to be done last minute with little notice. After calling a few other local fencing companies and having no one available to come out the next day due to being booked out a few weeks, we called Howell Fencing and they were able to fit us in the next day with little notice and their crew was AMAZING! They removed our previous fence in less time than quoted and cleaned up nicely and they came back to install the new fence and it went up quickly and was put up even better and looked way better than the previous one. You could really tell the quality work with this crew! We got compliments on our new fence too! The sales rep was professional as well and the price was decent as well! Thank you, Howell Fencing! 🙂
Can't say enough how great it was to work with Colin from Howell Fencing. Great experience all around and I would not hesitate to trust this company to build me a fence.
These guys are great. We needed help with hiding an unsightly area for an event and they showed up and installed their temporary fencing that we were able to use to hang welcome signage. Very dependable.
Howell Fencing just finished replacing my wooden fence and gate. It is so beautiful and the gate is awesome. The crew was great, hardly knew they were here. My old fence was in terrible shape and they hauled off all that debris. I'm so happy. Great work Colin and crew. Cinde
Elyssa Simpson
2023-02-09
Had them come for a Marti Gras event. Great response, easy to work with and very professional.👍
Howell Fencing has the most wonderful customer service care possible. Their performance is swift and Phillip is thorough, warm, and fantastic at what he does. I could not be more pleased with how professional and friendly he was. 11/10!
Shannon Robertson
2023-01-25
These guys are quick to respond and easy to communicate with. They had my privacy fence up in just a couple of days - I highly recommend!
Stephanie Crompton
2023-01-24
Howell Fencing came to my rescue when I needed to hide an eyesore area for a big time event in downtown Mobile. The black privacy mesh on their temporary fencing was the perfect fix. They were a pleasure to work with and I will definitely call them again!
Jennifer Crumpton
2023-01-24
I was presented a bit of a challenge while constructing my privacy fence. They helped provide a solution and the work was quality!!! The entire team was accommodating and the work was completed in a timely manner!
It's so not easy finding professional contractors for anything these days. This company was on time and on budget!
Let Howell Fencing quote your
Residential, Commercial or Industrial
Fence Build or Repair
Daphne, Fairhope, Mobile, Saraland, Spanish Fort, Theodore, Tillman's Corner
and surrounding areas