Restoring Functionality, Security and Aesthetics
Fences serve various important purposes in residential, commercial, and industrial settings. They provide security, privacy, and aesthetic appeal to properties. However, fences can suffer from wear and tear, damage, or deterioration over time, requiring timely repairs to maintain their functionality and appearance. Let's explore common issues faced by different fence materials and styles and discuss the repair methods and techniques to restore fences to their optimal condition.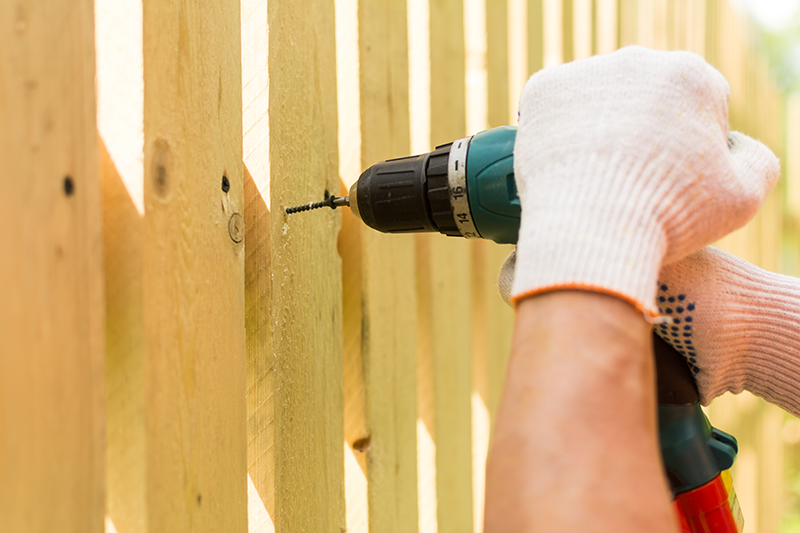 Wood Fence Repair
Wood fences are popular for their natural beauty and versatility. However, they are susceptible to several issues that necessitate repair:

Rot and Decay – Wooden fences exposed to moisture and humidity can suffer from rot and decay, particularly in areas with high rainfall. To repair this issue, it is essential to identify and remove the rotted sections of the fence. The affected area can then be replaced with new wooden boards. Treating the repaired section with wood preservatives is crucial to prevent future decay and ensure the longevity of the fence.

Split or Broken Boards – Split or broken wooden boards can compromise the stability and aesthetics of the fence. Repairing such damage involves removing the damaged boards and replacing them with new ones. Proper sealing and staining can be applied to the repaired section to blend it with the rest of the fence and enhance its durability.

Loose or Damaged Posts – Fence posts can become loose or damaged due to soil erosion, improper installation, or impacts. Repairing loose posts typically involves resetting them by digging around the base, stabilizing with concrete, and ensuring proper alignment. Severely damaged posts may require complete replacement. It is crucial to address post issues promptly to maintain the structural integrity of the fence.

Fence Panel Realignment – Over time, wooden fence panels may shift or become misaligned, affecting both functionality and appearance. Realignment can be achieved by adjusting and re-attaching the panels to ensure a straight and uniform fence. Reinforcing the panels with brackets or additional support may also be necessary to enhance stability and prevent future misalignment.
Vinyl Fence Repair
Vinyl fences have gained popularity due to their low maintenance requirements and durability. However, they can still experience certain issues that require repair:
Cracks or Breaks – Vinyl fences can develop cracks or breaks due to extreme temperatures, impacts, or stress. Small cracks can often be repaired using specialized vinyl adhesive or filler. For larger cracks or breaks, replacing the damaged section with a new vinyl panel is recommended. Care must be taken to ensure proper alignment and secure attachment during the replacement process.
Discoloration or Fading – Exposure to sunlight and weather elements can cause vinyl fences to fade or discolor over time. While this may not affect the fence's functionality, it can impact its appearance. To address this issue, specialized vinyl cleaners and restorers can be used to remove stains and restore the fence's color and shine. Regular cleaning and maintenance can help prevent further discoloration.
Loose or Damaged Posts and Rails – Similar to wooden fences, vinyl fences can experience issues with loose or damaged posts and rails. Repairing loose posts often involves reinforcing them with additional hardware or using specialized post brackets. Damaged rails can be replaced with new ones, ensuring proper alignment and secure attachment to the posts.
Wrought Iron Fence Repair
Wrought iron fences are known for their elegance, strength, and longevity. However, they require occasional repairs due to the following issues:
Rust and Corrosion – Over time, wrought iron fences can develop rust and corrosion, especially in regions with high humidity or exposure to moisture. Repairing this issue involves thorough cleaning of the affected areas, followed by sanding to remove rust and corrosion. Applying rust inhibitors is essential to prevent further deterioration. The treated areas can then be primed and painted to restore the fence's appearance and protect it from future corrosion.
Bent or Damaged Pickets – Accidental impacts or extreme weather conditions can cause wrought iron pickets to bend or become damaged. Repairing bent pickets involves carefully straightening them using specialized tools. Severely damaged pickets may require replacement. It is crucial to maintain consistency in appearance by selecting pickets that match the existing style and design of the fence.
Chain Link Fence Repair
Chain link fences are widely used in both residential and commercial settings due to their affordability and durability. Common repair issues with chain link fences include:
Damaged or Bent Mesh – Chain link fences can experience damage or bending of the mesh due to impacts or vandalism. Repairing such issues involves replacing the damaged section of the mesh with new chain links. Proper attachment and alignment are crucial to maintain the fence's integrity and appearance.
Sagging or Loose Bottom Tension Wire – The bottom tension wire in a chain link fence helps keep the mesh taut. Over time, the wire may sag or become loose, compromising the fence's stability. Repairing this issue involves re-tightening or replacing the tension wire as needed. Ensuring proper tension is essential to maintain the overall strength of the fence.
Gate Repair – Chain link fence gates can experience various issues such as misalignment, sagging, or damaged hinges. Repairing gate-related problems often involves adjusting and re-aligning the gate, replacing hinges, or repairing latches. Ensuring smooth operation and secure closure is crucial for gate functionality and security.
Fence repair plays a vital role in maintaining the functionality, security, and aesthetic appeal of different types of fences. Whether it is wood, vinyl, wrought iron, or chain link, each fence material requires specific repair methods to address common issues such as rot, damage, misalignment, or rust. Timely and proper fence repair not only restores the fence's functionality but also extends its lifespan, saving property owners from the costly need for full fence replacement. By understanding the various repair techniques and implementing appropriate measures, property owners can ensure their fences continue to serve their intended purposes for years to come.
Jasmine Coppage
2023-04-18
We needed an old 8' wood privacy fence on our business property removed the next day and then have a new one installed a week later due to some site work that needed to be done last minute with little notice. After calling a few other local fencing companies and having no one available to come out the next day due to being booked out a few weeks, we called Howell Fencing and they were able to fit us in the next day with little notice and their crew was AMAZING! They removed our previous fence in less time than quoted and cleaned up nicely and they came back to install the new fence and it went up quickly and was put up even better and looked way better than the previous one. You could really tell the quality work with this crew! We got compliments on our new fence too! The sales rep was professional as well and the price was decent as well! Thank you, Howell Fencing! 🙂
Can't say enough how great it was to work with Colin from Howell Fencing. Great experience all around and I would not hesitate to trust this company to build me a fence.
These guys are great. We needed help with hiding an unsightly area for an event and they showed up and installed their temporary fencing that we were able to use to hang welcome signage. Very dependable.
Howell Fencing just finished replacing my wooden fence and gate. It is so beautiful and the gate is awesome. The crew was great, hardly knew they were here. My old fence was in terrible shape and they hauled off all that debris. I'm so happy. Great work Colin and crew. Cinde
Elyssa Simpson
2023-02-09
Had them come for a Marti Gras event. Great response, easy to work with and very professional.👍
Howell Fencing has the most wonderful customer service care possible. Their performance is swift and Phillip is thorough, warm, and fantastic at what he does. I could not be more pleased with how professional and friendly he was. 11/10!
Shannon Robertson
2023-01-25
These guys are quick to respond and easy to communicate with. They had my privacy fence up in just a couple of days - I highly recommend!
Stephanie Crompton
2023-01-24
Howell Fencing came to my rescue when I needed to hide an eyesore area for a big time event in downtown Mobile. The black privacy mesh on their temporary fencing was the perfect fix. They were a pleasure to work with and I will definitely call them again!
Jennifer Crumpton
2023-01-24
I was presented a bit of a challenge while constructing my privacy fence. They helped provide a solution and the work was quality!!! The entire team was accommodating and the work was completed in a timely manner!
It's so not easy finding professional contractors for anything these days. This company was on time and on budget!
Let Howell Fencing quote your
Residential, Commercial or Industrial
Fence Build or Repair
Daphne, Fairhope, Mobile, Saraland, Spanish Fort, Theodore, Tillman's Corner
and surrounding areas