A Privacy Fence is an ideal choice to add beauty to your home and create the private setting to fit your needs. A privacy fence gives you privacy from neighbors, keeps pets contained in your yard, and provides overall safety and protection for you and your family. Howell Fencing has many options for privacy fence material and several styles to choose from for your convenience.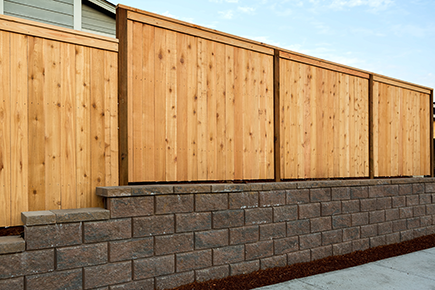 Wood Privacy Fence
Before having Wood Privacy Fencing installed it is imperative that all posts are set in concrete and the proper amount of horizontal runners are placed on the back of the fence for framing and the correct nails are used. These nails are galvanized for pine, cedar and aluminum to prevent rust and black markings. It is important to hire a professional fence company to ensure your privacy fence holds up against inclement weather conditions and other unforeseen events.
A privacy fence is a type of fence designed to create a secluded and secure area on a property, shielding it from view and providing a sense of privacy. It is typically taller than other types of fences and is constructed using materials that block visibility from the outside.
Privacy fences serve several purposes:
Privacy: The primary purpose of a privacy fence is to create a private space where you can relax, entertain, or simply enjoy your outdoor surroundings without being visible to neighbors or passersby. It prevents others from seeing into your property, ensuring that you can enjoy your personal space without intrusion.
Security: Privacy fences offer an additional layer of security to your property. By limiting visibility, they deter potential intruders and provide a physical barrier that makes it more difficult for unauthorized individuals to access your premises.
Noise Reduction: A well-constructed privacy fence can also help reduce noise from nearby streets, neighbors, or other sources. It acts as a barrier, absorbing or deflecting sound waves and creating a quieter environment within your property.
Wind and Sun Protection: Privacy fences can act as windbreakers, providing protection from strong winds that might otherwise disturb your outdoor activities or damage your property. Additionally, they can offer shade and protection from excessive sunlight, allowing you to enjoy your outdoor space comfortably.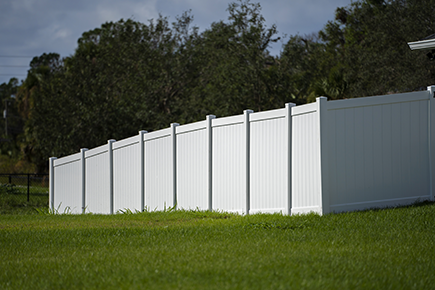 PVC (or Vinyl) Privacy Fence
Vinyl PVC Privacy Fence Installation is also an excellent choice that will give you the privacy that you desire and eliminate the maintenance of a wood fence – replacing rotten wood, staining, etc. We have a very large selection to choose from. Our PVC Privacy Fence is often referred to as vinyl or plastic, when in fact it's made from PVC. This popular fence comes in many different styles and several colors that include white, tan, and gray. If you are in the market for a Vinyl/ PVC Privacy fence ask us first if the product is carried locally in case you need a part or picket later. In addition, it carries a lifetime manufacturer warranty.

Howell Fence only uses the best Privacy Fence Material available, and offer the best competitive pricing in the Mobile, Saraland and Daphne areas for privacy fence installation. If you're looking for a licensed fence company to install a new privacy fence or repair your existing fence, call us today or use our contact form to schedule a free quote.
Let Howell Fencing quote your
Residential, Commercial or Industrial
Fence Build or Repair
Daphne, Fairhope, Mobile, Saraland, Spanish Fort, Theodore, Tillman's Corner
and surrounding areas