Aluminum fence is an excellent choice to add style and safety to your property. Howell Fencing takes pride in installing and repairing durable, stylish, and reliable aluminum fencing solutions for residential, commercial, and industrial customers in Mobile, Daphne, Saraland and the surrounding areas. . Whether you're looking to enhance the security of your property, define boundaries, or add an elegant touch to your landscape, our aluminum fences are the perfect choice. Ornamental Aluminum Fences are ideal for safety around pools and will never rust or rot – aluminum fence is durable and requires virtually zero maintenance. Aluminum fence is available in Residential, Industrial and Commercial Fence grades, to suit your application..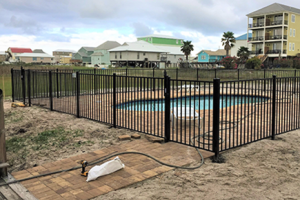 Why Choose an Aluminum Fence?
Unparalleled Durability: Our aluminum fences are built to last. Constructed with high-quality materials, they are resistant to corrosion, rust, and weathering, ensuring long-lasting performance and minimal maintenance requirements.
Aesthetic Appeal: Enhance the beauty of your property with our wide range of stylish designs and finishes. From traditional to modern, we offer a variety of options to complement any architectural style or personal preference. Our fences are customizable, allowing you to create a unique and visually appealing look.
Security and Safety: Protecting your loved ones and property is our top priority. Our aluminum fences provide a strong and secure barrier, deterring trespassers and ensuring peace of mind. Additionally, we offer various height options and additional security features to meet your specific needs.
Low Maintenance: Say goodbye to tedious maintenance tasks. Aluminum fences are virtually maintenance-free, requiring only occasional cleaning to maintain their pristine appearance. They do not need painting, staining, or sealing, making them a hassle-free fencing solution.
Versatility: Our aluminum fences are incredibly versatile, suitable for a wide range of applications. Whether you need a fence for your backyard, pool area, garden, commercial property, or industrial site, our experienced team will provide tailored solutions to meet your requirements.Eco-Friendly Choice: By choosing aluminum fences, you are making an environmentally conscious decision. Aluminum is a highly sustainable material that can be recycled repeatedly without compromising its quality. It is a responsible choice that contributes to a greener future.
Why Choose Howell Fencing?
Expertise and Experience: With years of experience in the fencing industry, we have the knowledge and skills to deliver superior products and exceptional customer service. Our team of professionals is dedicated to ensuring your complete satisfaction.
Customization Options: We understand that each project is unique. That's why we offer customization options to meet your specific needs. From fence heights and styles to color choices and accessories, we work closely with you to create the perfect fence for your property.
Quality and Craftsmanship: We are committed to upholding the highest standards of quality and craftsmanship. Our aluminum fences are meticulously crafted using the finest materials and advanced manufacturing techniques, guaranteeing superior strength and durability.
Timely and Reliable Service: We value your time and strive to provide prompt and reliable service. From the initial consultation to the final installation, we ensure a seamless and efficient process, keeping you informed every step of the way.
Customer Satisfaction: Your satisfaction is our ultimate goal. We go above and beyond to exceed your expectations, delivering not just a fence but an exceptional experience. We take pride in our strong reputation for customer satisfaction and countless positive reviews from our valued clients.
When it comes to aluminum fences, Howell Fencing is your trusted provider. We combine premium products, skilled craftsmanship, and exceptional service to bring your fencing vision to life. Contact us today for a free estimate and let our team assist you in finding the perfect aluminum fence solution for your home or business.
Let Howell Fencing quote your
Residential, Commercial or Industrial
Fence Build or Repair
Daphne, Fairhope, Mobile, Saraland, Spanish Fort, Theodore, Tillman's Corner
and surrounding areas