A vinyl fence, also known as PVC fence, is a type of fence made from polyvinyl chloride (PVC) material. It is a popular alternative to traditional wood, metal, or chain-link fences due to its durability, low maintenance requirements, and versatility in design. PVC Fence is often referred to as vinyl fencing and is the ideal choice if you're looking for lasting beauty and durability without the long term maintenance of a wood fence.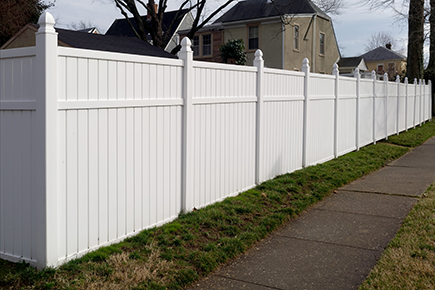 Durability: Vinyl fences are known for their exceptional durability. The PVC material used in their construction is resistant to rotting, warping, cracking, and insect damage, making vinyl fences highly durable and long-lasting. They can withstand various weather conditions, including rain, snow, and UV exposure, without deteriorating.
Low Maintenance: One of the significant advantages of vinyl fences is their low maintenance requirements. Unlike wood fences that may require staining, painting, or regular sealing, vinyl fences typically only require occasional cleaning with soap and water to maintain their appearance. They do not need to be repainted or treated for preservation, saving you time and money in the long run.
Variety of Designs: Vinyl fences come in a wide range of styles, colors, and textures, allowing you to choose a design that suits your aesthetic preferences and complements your property. Whether you prefer a classic picket fence, a privacy fence with solid panels, or a decorative fence with intricate details, there are numerous options available to enhance the visual appeal of your outdoor space.
Privacy and Security: Vinyl fences can be designed to provide excellent privacy and security. With solid panels and minimal gaps between them, vinyl privacy fences create a secluded environment, preventing outsiders from seeing into your property. Additionally, vinyl fences can be built to various heights, enhancing the security of your home or business.
Eco-Friendly: Vinyl fences are an environmentally friendly choice. They are typically made from recyclable materials and do not require the use of chemical treatments or harmful substances. Choosing a vinyl fence can contribute to sustainable practices by reducing the demand for wood or metal fences that require frequent maintenance or replacement.
Cost-Effective: Although the upfront cost of installing a vinyl fence may be higher compared to some other fencing options, its long-term cost-effectiveness makes it a worthwhile investment. The minimal maintenance requirements and long lifespan of vinyl fences help save money on repairs, replacements, and upkeep expenses over time.
Whether you're looking to enhance privacy, add aesthetic appeal, or increase the security of your property, a vinyl fence offers a durable and low-maintenance solution that can withstand the test of time while providing an attractive boundary for your outdoor space.
There are several different styles of PVC fence, including:
Privacy Fence
Picket Fence
Farm Fences
Rail Fence
PVC fence, or vinyl fencing comes in a number of colors, with the most common being white, gray or tan. Though the initial cost of a PVC Fence can be higher than a wood fence, you'll save time and money every year because you won't have to replace rotting wood, sand it to remove splinters or stain the fence.
If you're looking for a licensed fence company to install new vinyl fencing or repair your existing fence in the Mobile, Daphne, Saraland areas, call us today or use our contact form to schedule a free quote.
Let Howell Fencing quote your
Residential, Commercial or Industrial
Fence Build or Repair
Daphne, Fairhope, Mobile, Saraland, Spanish Fort, Theodore, Tillman's Corner
and surrounding areas